Exemplary choreographic group "Droplet»
Krasnogradsky District House of Culture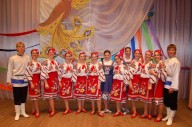 Exemplary choreographic group "droplet" was established in 1988. In 1994, awarded the title of "model».
Dancing different character repertoire consists of staff: national "Ukrainian dyvotsvit", "Pleskach", "Peddlers" plot, humorous "Porushka-Parana," pop "Hafaka", "Everything in Delhi hats ».
«droplet» more than 80 participants are children aged 5 to 17 rokiv.Kerivnyk team - Irina Pilipenko, a professional level, constantly working to improve performance skills team. For a significant contribution and promotion of amateur dance art Irina has awarded letters of appreciation of the Culture Administration, District Department of Culture, the district administration.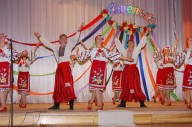 choreographic group "droplet" is very popular among the inhabitants of the region. Permanent member of International, regional, district, competitions, festivals, reviews. For successful performances in regional events, "borderless flow", "Spring Bells," "Spring colors", "Dyvohray", "Colorful carousel" team was repeatedly awarded with diplomas and certificates.
In 2007, the National festival-contest of children's folk dance "Toloka" (Kharkov), the team was awarded the Third degree.
---
Folk Dance Ensemble «Joy»
Volchansky District House of Culture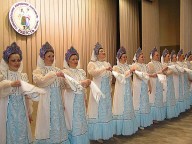 Founded Ensemble - March 23, 1953. In 1967 - the group was given the honorary title of "amateur folk dance».
The repertoire of the ensemble, there are 37 dance songs of them - Ukrainian: "Welcome", "Kolomyyky", "Hopak" n "Russkaya quadrille", "Svetyt month" and Moldavia, Belarus and modern dance.
To date, the band engaged in children and adults of three age groups (4 to 40 years), and he has 30 participants of the primary and middle part and 60 dancers preparatory group.
for 48 years the team was headed by Honored Worker of Culture of Ukraine Vasyl P. Gromov. Since 2001, the case was continued by his pupil, Alexei Ivanovich clamps.
In October 2006 the ensemble participated in the first regional qualifying round of the Ukrainian Festival Competition. P. Virsky, which took third place. Also awarded for participation in local festivals - "Slobozhanska colors" (Kharkov, 2007), "Dancing Kharkiv" (Kharkov, 2007).
currently no massive cultural district event does not occur without the participation of the national amateur dance ensemble "Joy».
---
exemplary ensemble variety dancesport "Vizavi»
Solonytsivskoho children's club "Eaglet" Dergachivsky District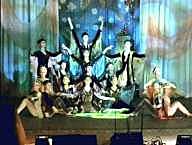 team sports pop-dance "Vizavi" was established in 1992 based on Solonytsivskoho kids' club "Eaglet." In December 2001 the team managed by Alexander O. flying, awarded the title of "model».
repertoire includes imaginative, meaningful story room with stylistic unity and choreographic imagery resolution. Manager creates dance compositions in the form of mini-play or theatrical act: "Prayer," "Adagio for dolls," "Hunting wolves».
in ensembles involved three children ages (5 to 16 years) and has 47 participants.
head of nontrivial collective Alexandra Alexandrovna volatile inherent responsibility and perseverance. She is a professional choreographer, director, uses in the new trends variety of sports choreography. For flying in 2006 was outstanding. For personal contribution to the revival and development of cultural and artistic traditions of the region, a highly artistic works, she received scholarships Kharkiv regional state administration in the field of Culture and Arts. PP Virsky, and in March 2007 she was awarded the title "Honorary Kharkiv in 2006».
team sports pop-dance "Vizavi" constantly participates in district, regional, national and international festivals, competitions, in particular, in 2011.
last victory was in this year's international competition choreography "Dancing Breeze" in Kerch, where the team was awarded I grade.
---
exemplary ensemble Ballroom Dance Sport "range"
Municipal House of Culture Kupyansk
exemplary ensemble Ballroom Dance Sport "Spectrum" was created in 1985. In 2004, a high level and performance art, active in the development and promotion of folk art ensemble was awarded the title of "exemplary" in 2007, the team confirmed this title.
founder and leader of the team - Svetlana V. Shiryaeva. It is also one of the founders of public fund for gifted children "Legacy." The decision of the municipality number 41 on January 17, 2006 awarded the title "Man of the Year - 2005" in nomination "Culture and art».
ensemble "Spectrum" - an active participant in regional activities, including regional festivals "borderless flow" and "Dance Extravaganza". On its own initiative in the city and district staff spends a lot of charity concerts, proceeds from which go on keeping kids somatic compartment of the central hospital Kupyansk.
number of ensemble members - 20 men between the ages of 6 to 17 years.
repertoire is based on point-sports and modern compositions, "Metamorphosis," "Illusions," "Formation", "This we».
In 2010, received the Grand Prix I Ukrainian festival-competition dance ensembles' Cup Star Dance-2010 "(Luhansk), Winner of I grade (Festival-concert tour of Europe), the dancers' Spectra 'Alex Mordvinov and Tatiana Zaika took III place in the championship of Ukraine (Kiev, juniors), Cup holders Mordvinov peace Alex and Tatiana Zaika («Star Light2010» Kyiv). In 2011, the "Spectrum" took 3rd place in the open championship of Luhansk region among dance groups (Luhansk).
---
Model Hobby choreographic groups «Smile» and «Baby-Boom»
BC "vegetable" Merefa Kharkiv region
choreographic collective «Smile» was founded in 1988, his first name "Ulыbka." Founder and leader of the group - Irina Serdyuk. In 2003 was opened younger choreographic group «Baby-Boom». Team «Smile» is composed of two age groups (11-15 and 8-10 years). Team «Baby-Boom» is the younger group «Smile», he in turn made up of older group (7-8 years), medium (5-7 years) and younger (3-4 years).
Thanks to the fruitful work of the group over the past 5 years, systematically took prizes in competitions at various levels. In 2008 the group became an honorary member of the Association of Modern Dance Pop Ukraine in Kharkiv. Following the review, dance groups, Kharkiv region in 2009 was recognized as the best first among 46 teams represented.
composition of groups - 80 participants.
repertoire consists of dances of different dance genres: contemporary, folk, classic.
Supporting choreographic collectives groups
Ensemble Dance "Richness» Palace of Culture "chemist" Pervomaysk. Manager - Natalia Savelivna Zavodun.
choreographic ensemble "Carousel» Palace of Culture "chemist" Pervomaysk. Manager - Irina Andreeva.
choreographic ensemble "Zest» Bugaevskaya rural House of Culture, Izyumskogo area. Manager - Olga Myronchyk
choreographic ensemble of national dance «Triumph» Shevchenko District House of Culture. Manager - Svetlana Smolyakova and Alina A. Barabanova.
modern dance group "Neposedы» Khoroshevsky House of Culture, Kharkov region. Manager - Irina Emelyanivna Salohub.
---
choreographic group "dance of the soul»
choreographic group "Dance of the Soul" led by Viktor Ivanovich Podkolizna, former dancer of the Kharkov State Opera and Ballet for 5 years helps women over 40 to stay beautiful, slim, young heart and soul body.
The repertoire of the group diverse in genre and style of dancing: Ukrainian, tango, Eastern, Lityn-American and others. Creative inspiration is transmitted to participating team leader and gives women of faith in yourself, femininity, health and attractiveness.
staff willing to participate in public events, concerts, records and competitions. Three member team O.Dyeda, S.Danylina and S.Siryk with others presented in Kharkiv grand dance show of Ukraine "Square's».